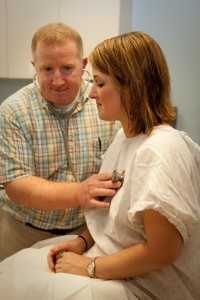 At West Linn Family Health Center, we have focused our practice on pediatrics (care of children), gynecology (womens health care), adolescence and adult medicine. We enjoy those areas of medicine that commonly occur in most families, such as sports medicine, minor surgery, and chronic illness (such as diabetes or hypertension). We also have a full compliment of other specialists and sub-specialists in all areas of medicine that we have a close working relationship with for those individuals that need to be referred for more specialized care.
In situations where patients need to be referred to other physicians, we still remain the captain of the team, so to speak, focusing on the individual and the big picture rather than a specific disease process.  This helps ensure that you don't get lost in the system.  In family practice, our specialty is you.
Obstetrics
As he has done for over 25 years, Dr. Farley continues to provide prenatal care and deliver babies. Since Dr. Farley is the only physician at West Linn Family Health Center that still does OB, he is more limited in how many prenatal patients he can take on, so please call as soon as you know you are pregnant to see if he has availability in his schedule to care for your pregnancy and deliver your baby. As always, his goal is to be present at the delivery of all of his patients, as well as have outstanding OB coverage for those times when he is out of town. If you are a patient of one of the other doctors at West Linn Family Health Center and would like Dr. Farley to do your OB care, then discuss this with your doctor and they will check with Dr. Farley to see if he is able to provide that service for you.